🧚‍♀️ Mood Lab – professional team that creates for you amazing quality Fairy Garden Sets, every pcs in set is HAND PAINTED!
🧚‍♂️ We are Amazon Top seller with Great reputation - You Can find all our sets on Amazon.com HERE!
🧚‍♀️ Mood Lab creates High Quality Fairy Garden Sets – its the best choice for anyone who wants to create his own magical Fairy Garden dream! Create Your Own magical Fairy Garden from your dreams!
🧚‍♂️ Mood Lab designed this kits to help you create little scenes with magic & whimsy, and are essential for attracting those little elusive fairies to your Home & Garden!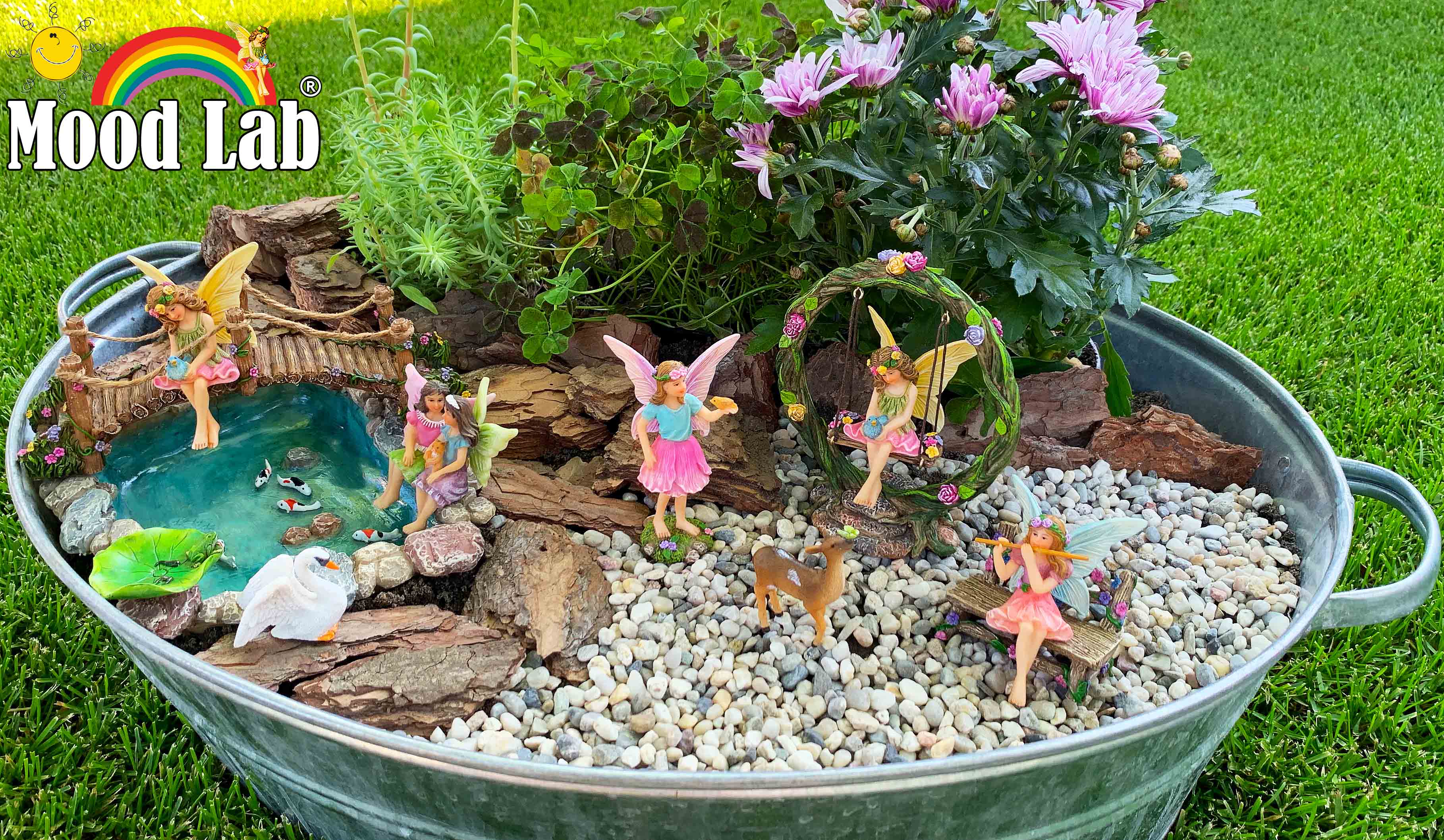 🧚‍♀️ Everyone has their own reasons - for someone it's a beautiful decoration for others it's a hobby! Creation of your own fairy garden decor can be a Great Idea for new Family Tradition! Try to involve members of your family or your friends into something Magnificent & Magical!
🧚‍♂️ By building this fairy tale world, you can have fun with your children, grandchildren or you can enjoy the fabulous world of the garden alone. Take a break from the everyday hustle and bustle. And remember - you are creating a magical place where fairies bring good luck and blessings to your home!
🧚‍♀️ Our figurines will help you to immerse yourself in a beautiful world of Magic & Mystery!
🧚‍♂️ If you need ingenious Gift for any holiday for anyone! Make a Gift to your Loved ones! Whether for:
❤️ Friends,
❤️ Children,
❤️ Daughter & Son,
❤️ Wife & Husband,
❤️ Mother & Father,
❤️ Grandmother & Grandfather,
❤️ Grandparents
❤️ or even for Yourself!
🧚‍♀️ Our Sets are Great for indoor or outdoor use. Use them where you can only imagine:
👍🏼on the lawn or under the tree,
👍🏼in a flowerpot or even broken pot, or in a glass terrarium
👍🏼or you just found an old bowl, a wheelbarrow, a kettle & want to use them in design!
👍🏼in suburb, countryside, city, flat or cottage... So just dream up & design Your own Fairy Garden!
🧚‍♂️ Great Gift for Birthdays, Christmas, Thanksgiving day, Mother's day, Valentine's Day, Graduation, Easter Day etc.
🧚‍♀️ All our Fairy Garden Sets are made from High-Grade durable resin, every pcs in set is HAND PAINTED and have a protective coating to ensure that they do not fade in the sun!
🧚‍♂️ So try Mood Lab & make your Mood – Good!❤️